Plote Construction offers environmental services such as landfill cell and cover construction, compost site development, contaminated soil removal and disposal and organics composting. In addition to recycling construction materials Plote is a host to yard waste processing, shingle recycling and construction & demolition materials recycling facilities.
Our innovations and dedication to recycling materials has led to the production and use of well over 1 million tons of recycled material; including asphalt, concrete, roofing shingles and stone.
Plote Construction's commitment is to be a productive and efficient construction materials producer and service leader in Northern Illinois, while leaving a positive contribution toward the environment through concurrent reclamation activities and its recycling efforts.
Working in conjunction with mobile recycle plants located at four Allied Asphalt locations and at Beverly Materials' Hoffman Estates location, Plote Construction is and further able to demonstrate their commitment to the Plote Company's policy of environmentally responsible business practice. This is accomplished by processing recyclable Asphalt and Concrete materials recovered at various construction sites and returning these materials to economic value while not impacting the local landfills. Additionally, we also take inbound loads of clean fill for the further convenience of our customers.
Furthermore, through these and other efforts, Plote Construction continues to demonstrate its commitment to natural resource conservation by working toward new and higher levels of materials conservations and sustainability. Plote Construction has recycled hundreds of thousands of tons of concrete and asphalt for re-use in the road construction process, further conserving our limited natural resources and making a positive environmental impact.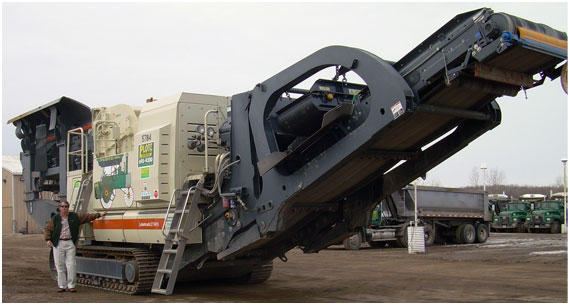 June 2010 – A Stimulus Funding Success Story – Clean diesel project hailed as a success!
Federal stimulus funds help repower three aging pieces of heavy construction equipment, preserve jobs – and clean the environment. Also, be sure to check out the following article at ConstructionEquipmentGuide.com for more details on the story.